St. Peter's Prayer Group, Maria Regina della Pace (Mary Queen of Peace) was established over fifteen years ago by a group of parishioners of all ages who wanted to spend time together praying and singing songs of worship. The gathering place has always been the St. Joseph Chapel at St. Peter's Roman Catholic Church and over the years, the group has seen many members.
Father Michael Della Penna celebrated the prayer group's tenth anniversary at an outdoor picnic Mass all were honoured to receive an Apostolic Blessing from our beloved Blessed Pope John Paul II.
The prayer group meets every Friday night at 7:30pm for Mass, followed by an immediate gathering at 8:00pm in the Chapel. The group is as much a commitment as it is a way of life, a unique time of spiritual refreshment and renewal, a time in which everyone can lay down all their cares and desires at the feet of Jesus' cross.
Meetings typically begin with songs of praise and worship both in English and Italian. Saint Augustine once said that he who sings prays twice. The prayer group is actually the fruit of one of our member's devotion to the Blessed Mother, after a trip to Medjugorje, Bosnia Herzegovina. It is there that the Blessed Mother has been appearing for over 25 years under the title of Maria, Regina della Pace or, Mary, Queen of Peace. The prayer group is consistent in it's love and devotion to Mary, knowing that it is she will lead us directly into the arms of Her Son Jesus.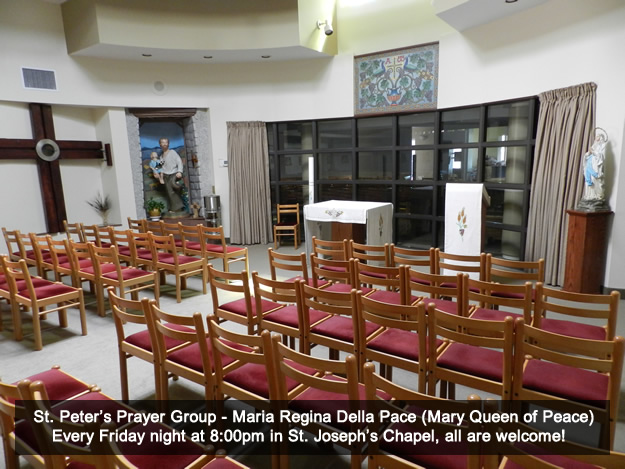 The main form of prayer recited at the chapel is the traditional Rosary of the Blessed Virgin Mary. Five decades of the Rosary are recited combined with music and readings either from scripture or the lives of the saints. The prayer format is adjusted accordingly to coincide with liturgical feasts or special feast days. On the First Friday of each month, the Blessed Sacrament is exposed for adoration and the Chaplet of Divine Mercy is recited. During this time there is intercessory prayer, including personal intentions and those for the Universal Church.
Using a blend of modern and traditional songs both in English and Italian, hearts are moved by the melody of music. Prompted by the Holy Spirit, voices are raised in praise and worship. Following shortly there after is silent reflection, allowing everyone quiet and personal time to pray, ponder and to listen. Holy Scripture says, "Be still and know that I am God." (Psalm 46:10)
Time at the chapel with the prayer group, is time away from the world's distractions and an emphasis on focusing that Jesus is present in all of us. Christ's presence prompts members to share any experiences, joined by lively discussion. As an extended family of the faithful in Christ, members come to know each other better and grow in brotherly love.