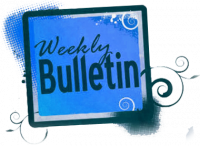 Our parish bulletin contains information on weekly mass times, any events taking place both at St. Peter's church and within our community that may be of interest to you!  Simply click on the word BULLETIN at the very top of the home page and you will be redirected to our parish bulletin.
REGISTRATIONS for FIRST COMMUNION / CONFIRMATION:
Registrations for both First Communion and Confirmation in 2022 have taken place.
If you were not able to attend and would like to have your child registered to receive their Sacrament, we ask that you complete the registration form that can be found at the top of this homepage under the subheading IMPORTANT INFORMATION, followed by DOCUMENTS.
Click on FIRST COMMUNION or CONFIRMATION in order to access further detailed information together with the required registration form.
A copy of your child's Baptismal certificate must accompany your registration form if your child was not Baptized at St. Peter's church.
The completed registration form together with the Baptism certificate (if not Baptized at St. Peter's church) MUST BE BROUGHT TO THE PARISH OFFICE.
PLEASE DO NOT EMAIL OR FAX YOUR REGISTRATION FORM.

As a reminder, ONLY registered and practicing members of our parish may receive their Sacraments at St. Peter's church.
Students attending one of our local schools who do not live within the boundaries of St. Peter's parish MUST receive special permission in writing from their home parish (Catholic church closest to home) if they wish to receive these Sacraments at St. Peter's church.
**A permission letter must be provided together with the registration form.**
(Church Boundaries: North of Rutherford Rd, East of the Humber River/Kipling Avenue, South of Steeles Avenue, West of Highway 50)
A copy of your child's Baptismal certificate will be required on registration nights. If your child was baptized at St. Peter's Church, we will not require a copy.

Welcome to the official web site of Saint Peter's Roman Catholic Church, located in Woodbridge, Ontario, in the Archdiocese of Toronto guided under the spiritual direction of the Franciscan Friars from the Immaculate Conception Province, NY, USA.
Your Humble Brother In Christ,

Father Michael Corcione, ofm Pastor
Our faith community here at St. Peter's parish is alive and vibrant, eager to not only embrace the Gospel of Jesus Christ, but to live it and share it with others. My desire and my hope is that this web site and the information contained here, may better serve your needs and to bring you just a little closer together with all of us.
At this site, you will find information about Catholic spirituality, our social outreach, Christian formation, our devotions, our missionary efforts, the liturgy, schedules and more, all included to help new and current members to grow in the knowledge and understanding of the Catholic faith and our parish community.
I pray that all of us, wherever we may find ourselves at this moment, may be open to the boundless blessings that God our Father has in store for all "those who love Him". In the name of all of us here at Saint Peter's parish, be at peace with God.
All Masses listed will be live streamed on website.
The parish office is open from 9am to 7pm, Monday to Friday.  The seating capacity is currently at 25% (approximately 225 people).  Masks and social distancing remain in effect when entering the church.